Automating cross-company business processes
Multi-party business processes: Challenges
Multi-party, collaborative business processes and supply chains fuel the digital economy. Successful business outcomes rely on their capability to exchange information and secure cross-enterprise transactions among numerous participants, services and geographically disperse integration points. However, these multi-party business processes remain confined to the same first-generation core technology principles of the early Internet era with siloed and fragmented collaboration across business boundaries. They rely on costly manual intervention and complex legacy application integration to synchronize multiple private siloes of data and workflows.
Siloed & fragmented collaboration across business boundaries
Out-of-Synch data & workflows
Legacy integration technologies
Expensive reconciliation & audit cycles
What We Do
BCware's solution allows enterprises to dramatically improve productivity around multi-party business processes by automating synchronization of multiple data ledgers and workflows among participants. Furthermore, enterprises can avoid the inefficiencies and cost of data reconciliation and audits.
BCware's solution leverages Blockchain technology to overcome the synchronization issues that still plague multi-party business processes. Blockchain's two foremost, unique capabilities are to allow people to share data immutably on the distributed ledger and to enable workflows across business boundaries through smart contracts. The BCware platform is built to enable business ecosystems, transforming multi-party processes and transactions. BCware's unique approach allows enterprises to harness the power of Blockchain by eliminating implementation and operational complexity.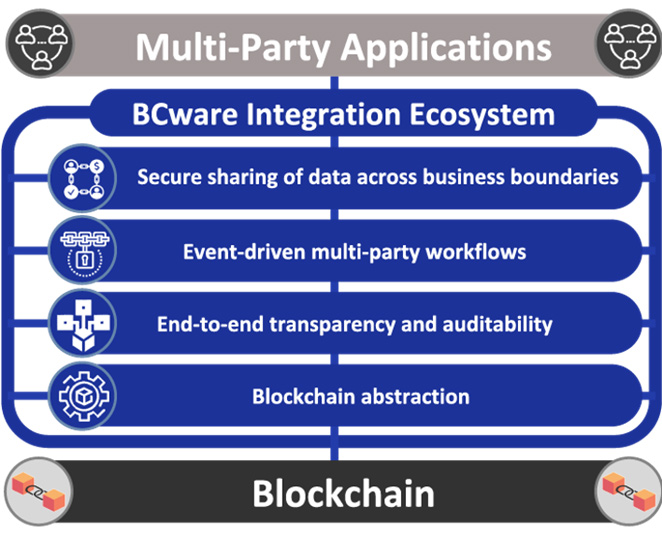 Two key design principles govern the BCware high-level architecture approach:
Plug-and-play integration with existing business processes and applications
Blockchain-platform agnostic architecture via an abstraction layer
BCware Solution Benefits
New digital business models demand the following design patterns:
Traceability
Enterprises need the capability to monitor events and metadata associated with a business process or product.
Compliance
Standards and controls to provide evidence that regulatory conditions are met.
Flexibility
The ability to adapt to events and issues in real-time and run scenarios without significantly increasing operational costs.
Stakeholder management
Effective governance to ensure effective, ambiguity-free communication that guarantees business outcomes.